Minority Veterans of America is honored to be invited by the Duwamish Canoe Family on this year's Canoe Journey, Paddle to Lummi 2019, and you and your family are welcome to join us.
This is an incredibly special opportunity, as we will join a tradition of indigenous peoples traveling the waters of the Puget Sound to meet and gather for trade, ceremony, and celebration. The Lummi nation has extended the invitation this year for the expected 100+ canoes and 10,000 visitors to its shores to share in potlatch, traditional song, dance, and testimonies that have provided generations with hope, healing, and happiness – Sqweshenet Tse Schelangen "Honoring Our way of Life" July 24-28th.
The Duwamish Canoe Family has invited MVA to join as they begin the journey from the Alki Beach Bathhouse, the morning of Friday, July 19th. All are welcome to join in the send-off and wish the Canoe a safe Journey.
There are many ways to participate, including assisting on the safety boat, helping with ground support, or driving one of many vehicles transporting personnel and equipment. Whether you can commit to the full 6+ days, or would just like to help out for a day or two, we welcome you and your family to join in this unique experience.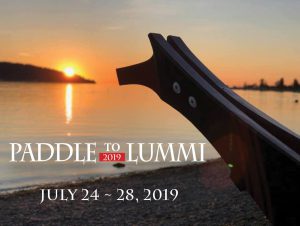 3 Ways to Journey
Safety Boat
The Safety Boat will provide relief throughout each day of the journey to Canoe Pullers. We invite those with water safety training to join the Safety Boat in any way they can.
Ground Support
This group will support the canoe family from the shore by setting up and breaking down the campsite each day. We have a 15-passenger van, as well as a few vehicles, to transport persons and equipment (we will try to help folks coordinate vehicle carpooling if needed).
Drivers
We have a need for at least three drivers with valid driver's licenses:
One (or more) driver/s for the 15-passenger van (must be a veteran and must complete a required safety class)
Two additional drivers to bring the Canoe and Safety Boat Trailers from Seattle to Lummi on July 24th (we will provide return transportation if needed)
Note: This is an event lasting more than 7 days, however, you do not need to be available for the entire journey and can participate on the dates that you have available.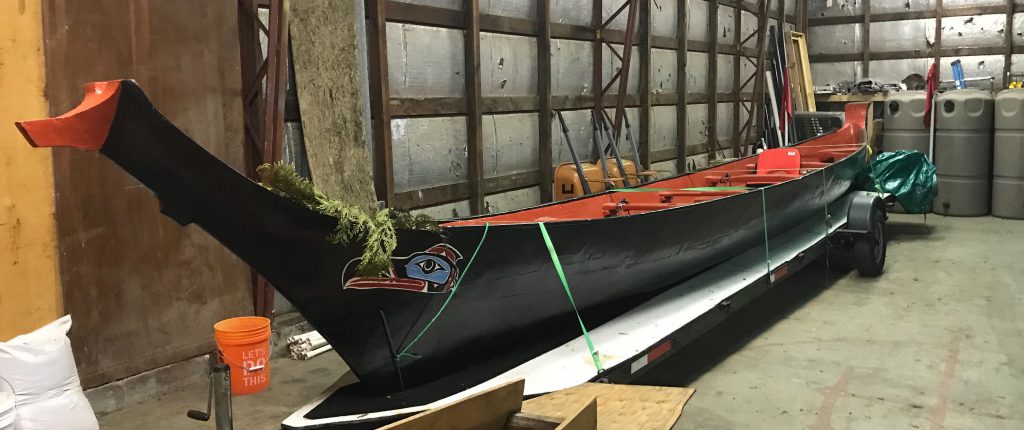 Canoe Journey Schedule
Friday, July 19th
Canoe will depart from the Alki Bathhouse at Alki Beach around 9 – 10 a.m.
All are invited to come down to send off the Canoe Family on their Journey.
The Canoe will Pull to Golden Gardens for a Celebration of the 30th Anniversary of the Canoe Journey (all are welcome to join).
After lunch, the Canoe will resume their Pull to Suquamish, where they will camp for the night.
Saturday, July 20th
Depart Suquamish in the morning, Pull to Tulalip (approx. 35 nautical miles).
We will camp for two nights at Tulalip.
Sunday, July 21st
Rest day from the long Pull to Tulalip.
Monday, July 22nd
Depart Tulalip in the morning, Pull to Swinomish (approx. 21 nautical miles).
Camp overnight in Swinomish.
Tuesday, July 23rd
Depart Swinomish in the morning, Pull to Samish (approx. 20 nautical miles).
Camp overnight in Samish.
Wednesday, July 24th
Depart Samish in the morning, Pull to Lummi (approx. 10 nautical miles).
Camp through the duration of Protocol (July 24th – 28th).
Sign Up for the Journey
Click the link below to fill out applications for you and any family members attending. Costs beyond your travel to the event should be minimal, as we will be working to secure donations, partnerships, and sponsors. We will also continue to update applicants on any new information including gear and supplies that MVA will provide and what you should expect to bring.
---
Tribal Canoe Journeys is a celebrated event for the Indigenous peoples of the Pacific Northwest Coast. Indigenous Nations from the coast of Alaska, British Columbia, and Washington state participate every year. Canoe families travel in ocean-going canoes — many made of cedar, others made using more modern techniques and materials — and visit Native Nations en route to the final host destination.
History
These majestic vessels, crafted from a single log often hundreds of years old, all but disappeared early in this century. It is hard to explain why so little has been written about them, as they are probably the single most important aspect of Northwest Coast culture…. the canoe was as important as the automobile is now to North America.
The Canoe Journey is a revival of the traditional method of transportation and is a significant cultural experience for all participants. The Canoe Journey began in 1989, when the "Paddle to Seattle" took place as part of the 100th anniversary of Washington Statehood. That year, the state and indigenous governments signed the Centennial Accord, recognizing indigenous sovereignty. Fifteen Native Nations participated in the Paddle to Seattle.
Each year, a different Native Nation hosts canoe pullers, support crews and other visitors from Alaska, British Columbia and Washington. Depending on distance, the trip can take up to a month. On arrival, visiting canoe families ask permission to land, often in their Native languages. Protocol — the sharing of songs, dances and gifts — lasts for days. The Canoe Journey is family-friendly, and drug- and alcohol-free.

Additional Information